Spotted Lanternfly Quarantine and Reporting Information
Spotted Lanternfly Quarantine Regulations
For a quick list of state contacts and regulations, see the National Plant Board website.
Delaware: Regulations are currently under public comment period. See information from the Delaware Department of Agriculture.
Maryland: See information from Maryland Dept. of Agriculture [PDF].
New Jersey: See information from the New Jersey Department of Agriculture.
New York: See information from the New York State Department of Agriculture and Markets.
Pennsylvania: See information from the Pennsylvania Department of Agriculture. Also see "How You Can Comply with the Spotted Lanternfly Quarantine Regulations" from Penn State Extension.
Virginia: See information about quarantine and permitting from Virginia Dept. of Agriculture and Consumer Services.
West Virginia: Quarantines have been established in counties with infestations. See WVU Extension Service for more information.
---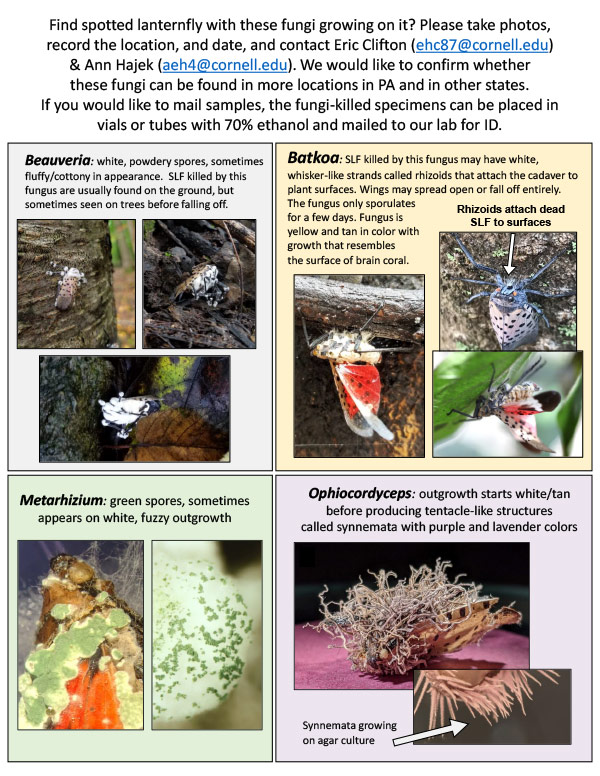 Find spotted lanternfly with fungi growing on it?
Download the linked PDF to help identify different types of fungi. Please take photos, record the location and date, and contact Eric Clifton (ehc87@cornell.edu) and Ann Hajek (aeh4@cornell.edu).
---
How to Report Spotted Lanternfly
If not listed below, contact your State Department of Agriculture. See the USDA APHIS spotted lanternfly website for details on how to report.
Connecticut
If you suspect you have found spotted lanternfly, please contact the Connecticut Agricultural Experiment Station. Please collect suspect insects and send photographs to ReportSLF@ct.gov.
Delaware
Take a picture: With the GPS function turned on your smartphone or a camera with GPS, take a photograph of any life stage (including egg masses). Upload your photograph to Facebook or Instagram, using the hashtag #HitchHikerBug. If you don't have GPS capabilities and/or access to social media, submit the photograph via email to HitchHikerBug@delaware.gov and include your name, contact information, and the address or georeference of where the photo was taken.
Collect a specimen: Suspected specimens of any life stage can be collected and placed in a vial or plastic zip-lock bag with the name and contact information of the collector, and turned into the Delaware Department of Agriculture CAPS program for verification. This insect is considered a threat to some crops and early detection is vital for the protection of Delaware businesses and agriculture.
Report a site: If you can't take a specimen or photograph, send an email to HitchHikerBug@delaware.gov, submit a web form, or call (302) 698-4632 with a message detailing the location of the sighting and your contact information.
Maryland
If you observe any egg masses or insects that look similar to spotted lanternfly, please try to collect them, and inform the Maryland Department of Agriculture at (410) 841-5920 or DontBug.MD@maryland.gov as soon as possible.
Massachusetts
If you believe you have found any of the life stages of the spotted lanternfly in Massachusetts, please report it to the Massachusetts Introduced Pests Outreach Project.
New Jersey
Follow procedures listed at the bottom of the New Jersey Department of Agriculture website for collecting a specimen or taking a picture with GPS data. Submit pictures to SLF-plantindustry@ag.nj.gov.
If you can't take a specimen or photograph, call New Jersey Spotted Lanternfly Hotline at 1-833-BAD-BUG0 (1-833-223-2840) and leave a message detailing your sighting and contact information.
New York
Take a photo.
Collect a sample and place it in a freezer or in a jar with rubbing alcohol or hand sanitizer.
Pennsylvania
Call 1-888-4BAD-FLY (1-888-422-3359) with questions on spotted lanternfly management or to report a sighting, or report a sighting online.
Rhode Island
Go to appengine.egov.com/apps/ri/dem/demcaps
Virginia
Go to ext.vt.edu/agriculture/commercial-horticulture/spotted-lanternfly.html
West Virginia
If you find an insect that you believe is a spotted lanternfly, collect a specimen or take a high-quality photograph, and contact the West Virginia Department of Agriculture at bugbusters@wvda.us or (304) 558-2212, or reach out to your local WVU Extension Service office.
---